Projects
Broadcom Wireless cards and Lenovo E530 Bios UEFI Whitelist
Last Updated on 24 August 2015
|
Written by CodeAsm
Its a trouble maker, a soldering iron fire starter. The Lenovo E530 I got two(already!)years ago can sometimes be a pain.
First I destroyed the filesystem, then I borked the Bootsequence and last time I beeped flipped the Bios/Uefi variables completly.

I save those boot errors for another blog, when I try refashing it.
Wich actualy started my research for COreboot or just removing/altering the Whitelist of my beloved Lenovo.

Wait what? if you never heard of Bios whitelists, or whitelists for hardware, go read here:

So yes, My lenovo has a whitelist and I do not agree.
Click the readmore button to view some awesome images of the card without shield cover and my further research:
Read more: Broadcom Wireless cards and Lenovo E530 Bios UEFI Whitelist
OPS Demo
Last Updated on 14 October 2014
|
Written by CodeAsm
Earlier Article:
OPS Introduction
As stated earlier, the demo version of the OPS software pakage cannot be downloaded anymore, but its still availeble from the Archive, a great organisation with the idea to make a backup of our digital world. https://archive.org/web/ I let it be an exercise to the reader to find the demoversion.
bla bla, need more writing.
Database of the fullversion is unprotected and the demoversion is password protected (What where you thinking?)
the password is: KJC137so
This is accuired using the Access (database is made using access) password recovery tool: http://www.pendriveapps.com/access-passview-mdb-password-recovery-tool/
when you remove the password and "install" the update, you get an incomplete full version. describtion on how to do so will maybe follow, but not required for a new full version. all songs can be added using the songtext editor.
OPS introduction
Last Updated on 14 October 2014
|
Written by CodeAsm
The following project is about a christian religious software program, the "hacks" and tricks are not religious intended and I strongly suggest you refrain yourself for letting any comments of such topic that involve religion, believe or "facts" in the comments section. Ive not had any problems so far and not so much comments in general, lets keep it professional and on the topic. Thank you.
A few years go I used a program to present song-text to a screen using a beamer in a local church. This software is not unique, many options are available even freeware. When we (church, my dad and a good friend of mine) searched for other, free options or software to use at home we discovered that the Dutch organisation responsible for legal distribution only offers a software package digitally containing the lyrics and no other digital resource was "legaly" availeble.
Tobedone: the legal reasons of song-texts and internet. Basically, for personal use  you pay a fee when you buy a lyrics book from the official retailer. Opwekking is selling all kinds of books and songbooks. basically its legally impossible to obtain the text for free, or visit a church, where the church pays Opwekking to present and play the music. Im no lawyer, I dont want to be one and you should educate yourself before plaming me for whatever reasons.
Back to the software, OPS stands for OpwekkingsPresentatieSoftware and all versions appear to be called Pro (professional) but no other versions appear to be existing.
Also it apeared to be made availeble on CD in as early as 2004. wich could be version 1. Early contact with the programmer appear the software was done in Delphi and later versions done in a small team in C# with WPF and .net 3.0 at least. For this reason the software can not easily ported to Mac or Linux. Wine and mono seem unable to run the software, but legal free software is available and copies of the lyrics can be obtained, legal use is allowed after paying the right organisations.
2004 - 1.0?
2005 - 2.0?
2006 - 3.0, "OPS Pro 2006" CD and demo download
2007 - 4.0 "OPS Pro 2007" CD, update downloads (Updates V410 V411)
2008 - 5.0 "OPS Pro 2008" CD, update downloads (U510)
2009 - 5.1 "OPS Pro 2009" CD, update downloads (U5)
2010 - 6.0 "OPS Pro 2010" CD, update downloads (U6)
2011 - 7.0.1 "OPS Pro 2011" CD, update downloads (Update 7.0.3)
2012 - 7.0.3 "OPS Pro 2012" CD, update downloads (including new songs)
2013 - 7.1.? "OPS Pro 2013" CD, update downloads (update 7.1.4)
2014 - 7 "OPS Pro 2014" CD, no updates
2015 - 7  probably "OPS Pro 2015" and updates could be available
Not all information is complete, and sadly some updates are unavailable. No CD's where in our research available.
Screenshot of the 2006 version, DEMO wich you cannot official download anymore (Still works in Windows 8.1 :P )
on the Demo-version and its "protection".
Xbox project status
Last Updated on 02 April 2017
|
Written by CodeAsm
So recently some things arround my school made me have lotts of time.
Time to work on a Robot project, and ill make a post about that soon, but I also made some progress in researching the xbox.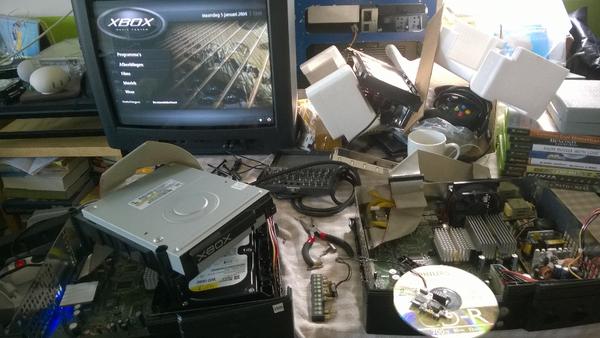 At first a working modchip was modified with a kernel I modded... went wrong, I was at the hackerspace and had no way to reprogram the modchip to a working state there. So back home I used my spiderchip from my first xbox (on the right) to Hotswap chips to reprogram the Xecuter2.2 Pro.
Xbox Alpha running
Last Updated on 15 April 2014
|
Written by CodeAsm
Small update, recieved the USB card and its working :D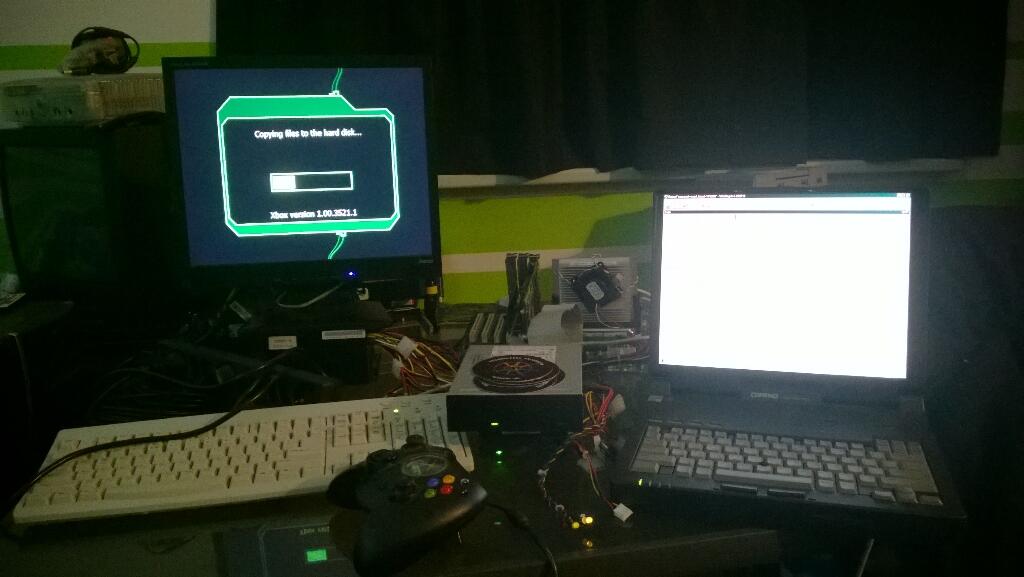 Pressed go, and its recoverying the dashboard on my Windows XP drive. Gone are all the iligal mp3 ;)
And an example file is run from the xdk dashboard
To see the dashboard: http://ptoponline.com/?p=573 Borman released the recovery file I used.
And for those who search for some alpha or xbox related files: http://codeasm.com/xbox/files/
Page 1 of 3