Xbox 360 Hacks
The AMR, Audio/Modem Riser card WM9707
So I was doing some research into the Soundcard of the Xbox Alpha. Because I want to create a franken Alpha myself I need a soundcard. Well, it can work without one but thats kinda stupid and I want sound. According to some people on Assemblergames.com the Dash should work without one. Games will crash.
Me and a few other wanted to find or create such a sound card ourselves. But the resources to do so are very limited, in a way that you cant realy find documents or parts very easy. but it all changed yesterday, 14/10/2013. I contacted Intel, searched the archive and after a while Espes send me the Intel doc I was searching for http://www.ms-infobytes.info/pages/AudioModemRiser.pdf ,
Bad_Ad84 commented in the chat "
| | |
| --- | --- |
| | why not download the reference design from wolfson for one of the amr cards |
and here we are :D I found first one for the WM9705, but this morning I used the Archive again:
http://web.archive.org/web/20040517010459/http://www.wolfsonmicro.com/uploads/documents/WM9707AMR.pdf
On the whole wide web there is little to no information about the AMR slot used in many 2000 era computers, it was supposed to be kinda closed and such.
But here are the specs and some other intresting images :P original source also noted.
I hope this info and the files can help you If you stumbled on this, I try to make this sound card into something real in the next couple of month and maybe sell some boards if I have leftovers. Otherwise, make it yourself, order the main ic from somewhere like china and build it :D or source your own board. Original retail price, $99.
I spend $8 so far, and 6 hours searching.
I have made a backup of all the said files, so might one disappear, please contact me.
Image from borman, his Soundcard behind the Nvidea video card: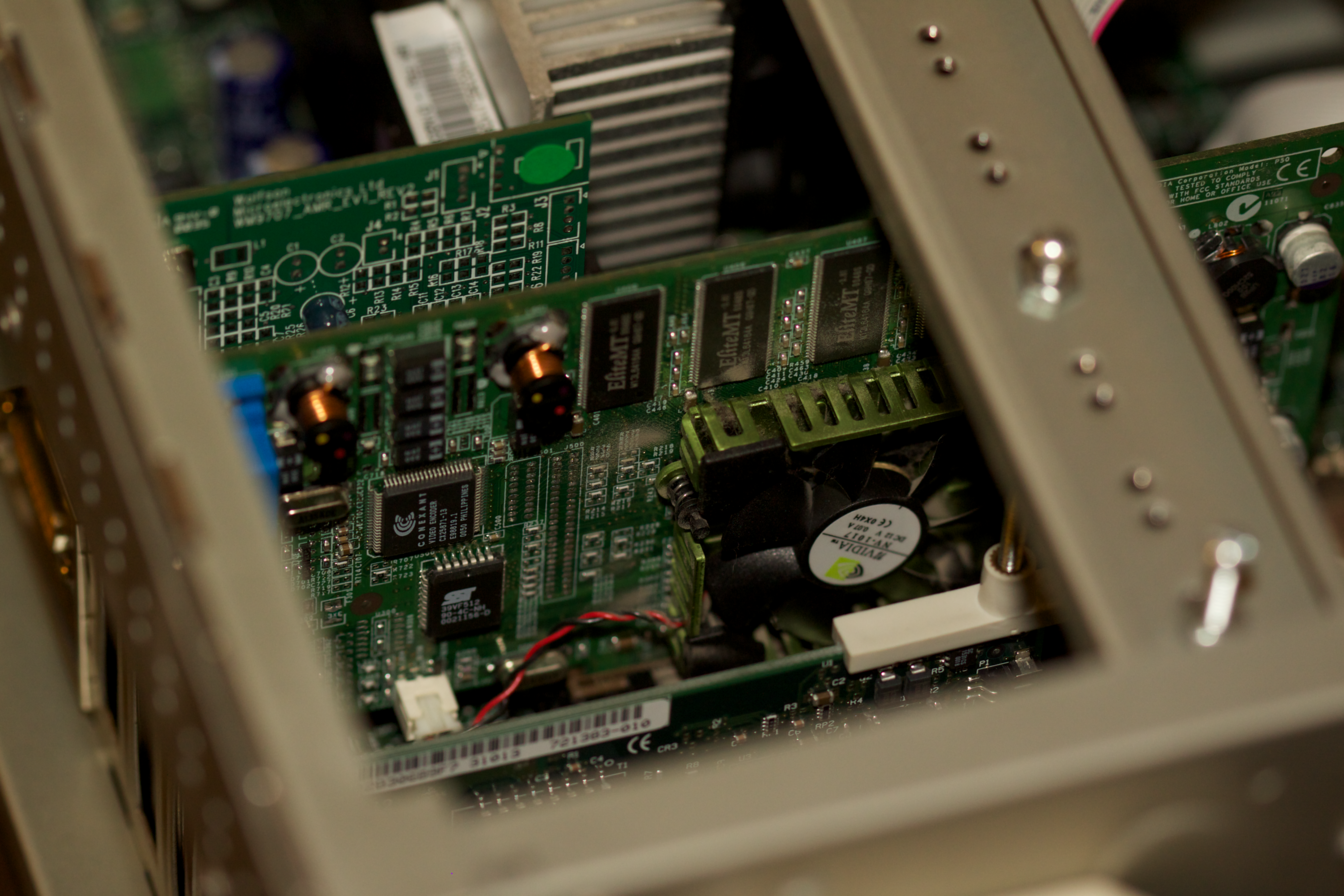 Xbox iso creation
When I tried backing up some OXM demo disks I found out that I got to iso parts.
this is done by the backup app I used on the xbox. So here is a bit of the official update info:
Dvd2xbox v0.7.5 = finally exact 1:1 backups
All this time messing with layout files, dumps and isos in order to get almost 1:1 backups has finally reach to its end. Today Dvd2xbox v0.7.5 was released including a very interesting feature:

What's new/fixed:
* beta: added iso ripper to dvd2xbox. Please note that the raw ripping highly depends on the reading capabilities of your DVD drive. Couldn't test it due to missing softmodded box. Any reports are appreciated (http://forum.ws0.org/viewforum.php?f=9)

With this new feature you can get an EXACT 1:1 dump from any original you insert on your Xbox. As usual dvd2xbox´s output can be saved to the xbox´s hd, or directly to a samba share on the pc. In the first case, Dvd2Xbox will output 2 files if the disc´s size is +4gb, so you´ll have to join them back in your pc using the usual "copy /b file1+file2 finalfile".
Done :D
Xbox Website
Im trying to get more detailed information about different parts of the Microsoft Game Console called Xbox.
Ill make a nice looking template and cms system to let you read more info, for now youl have to do it with some images and raw html: